Dental Implants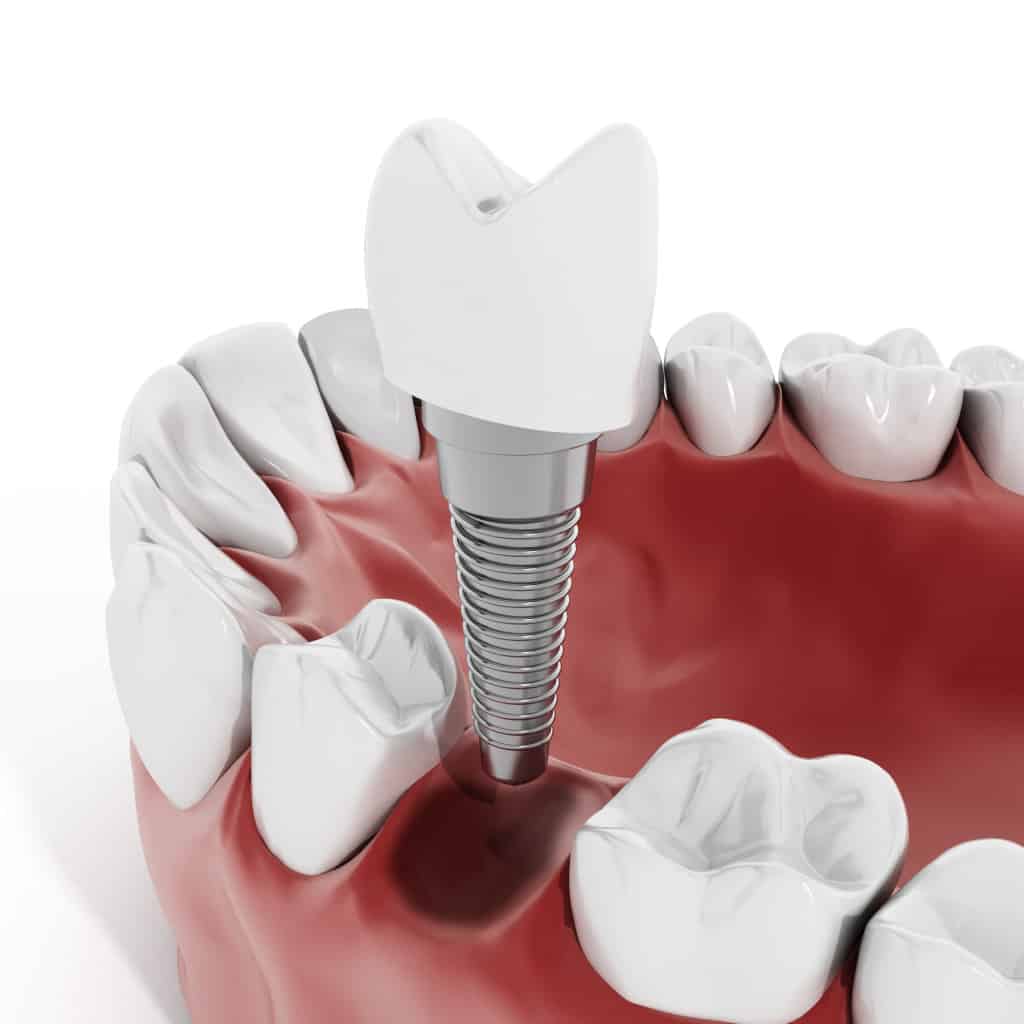 Like dental bridges and dentures, dental implants are a popular solution for replacing lost teeth. The difference, however, is that dental implants are designed to replace your lost teeth roots so they can support a dental crown, bridge, or denture. A dental implant consists of three parts:
a small, root-like post that is inserted into the jawbone
a connective abutment that attaches to the post and protrudes above the gum line
and finally, the restoration that will rest on top of the implant post and abutment
Because of their construction, dental implants are the only option that can recreate the dental root-and-crown structure offering the most lifelike replacement for your lost teeth.
Why Choose Dental Implants?
Bridges and dentures are highly effective at rebuilding smiles after tooth loss, so why should you choose dental implants, instead? There are several advantages that come with replacing the tooth roots, including:
Improved stability – instead of relying on neighboring teeth or a plastic base for support, implants anchor your replacement teeth with implanted posts that offer lifelike stability.
Improved comfort – the increased stability of implant-supported replacement teeth means that your bridge or denture will not become loose and shift around on your dental ridge.
Improved confidence – with replacement teeth that look, feel, and function like healthy natural teeth, you can once again smile with the utmost confidence.
Improved oral health – one of the more significant long-term benefits of dental implants is that they stimulate your jawbone whenever you bite and chew, which helps stem jawbone deterioration due to tooth loss.
What You Should Know
Before placing dental implants, your dentist will first carefully examine your teeth, dental ridges, and jawbone structure. If your jawbone has lost density, or if you exhibit tooth decay or gum disease, then you may not yet be a candidate for implant placement.
Tooth decay and gum disease can be treated with appropriate family and restorative dental treatments. If your jawbone is weak, however, then you may need bone grafting – a minor oral surgical procedure that involves grafting donor bone tissue onto your jawbone to boost its strength and integrity.
After your implants are placed in your jawbone, the jawbone will fuse to the implant posts as it heals, making them a permanent part of your oral anatomy. With the right care and attention, your implant posts can last a lifetime, even if your bridge or denture wears down and needs replacement.
Call Austin General Dentistry Today!
Drs. Ryan and Lauren Loveless, both graduates of the University of Texas Dental Branch in Houston, Texas, take pride in delivering high-quality, family-based dental care to patients of all ages. At Austin General Dentistry, our goal is to create a comfortable, welcoming environment so you can enjoy your visits. We're dedicated to providing advanced dental technology and techniques that make your treatment easier and more effective. To schedule a consultation, call our office in Austin, TX, today at 512-346-5540.