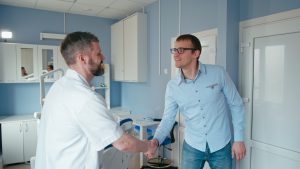 Waiting on the completion of dental work can be frustrating. Unfortunately, restorative dental procedures sometimes require patients to make more than one trip to the dentist's office to have their treatment finalized. If you have a problem with your smile, and worry that the work involved will demand more of your time and attention than you are comfortable with, look into the benefits of a CEREC dental crown. Our Austin, TX dentist's office is able to design, create, and place a CEREC crown for a patient in as little as one day! This means you have fewer trips to make to our location, and it ensures that your tooth is supported by a permanent crown with minimal delay.
CEREC Crowns Can Make Restorative Dental Work More Convenient
Restorative dental work provides lasting protection for a damaged or cavity-stricken tooth, making it important to the recovery of your smile when something goes wrong. While this work can have lasting benefits, it can be frustrating to find yourself in a situation where you might need to arrange several trips to see your dentist. Our practice uses CEREC technology to cut down on the time and travel that can be involved in restorative services. Because we can make your appliance at our office, we can make the process of caring for you more convenient!
A Crown Can Provide Lasting Protection For A Tooth
The dental crown designed for you will be made to match the shape, size, and color of the tooth that needs to be restored. CEREC crowns are made from a ceramic material that can closely imitate healthy enamel, so you will not have to worry about your restoration standing out. The process of creating CEREC crowns relies on digital imaging technology to carefully determine the right shape and size of your tooth, which enables the creation of a crown that will remain supportive and secure.
Tips To Help You Avoid Future Dental Treatments
If you want to avoid dental fillings and dental crowns in the future, start thinking about your current commitment to oral hygiene. If you are not doing so already, take at least two minutes every time you brush your teeth so that you reach every area of your smile and fully clean every tooth. You can further protect yourself by flossing on a daily basis, which allows you to clear away harmful debris and bacteria between your teeth.
Your Austin, TX Dentist's Office Can Provide Restorative Work With A Same-Day Crown
Our Austin, TX dentist's office is prepared to restore a problem tooth in as little as one appointment with a CEREC dental crown. If you would like to learn more about our practice, and our services, call Austin General Dentistry at 512-346-5540.