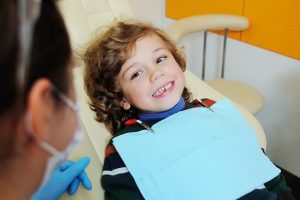 When you prepare healthy meals and provide water instead of sugary drinks, you help your kids keep their teeth safe from cavities. You can also help them in more direct ways – for instance, you can model good brushing and flossing practices for them to follow. While these efforts are important, remember that kids's smiles also benefit from regular trips to the dentist's office for pediatric dental care. Your Austin, TX dentist provides quality preventive care for patients of all ages. You can count on your own smile care during routine dental exams and cleanings, but you can also bring your kids to us to make sure they are enjoying quality dental health support.
Dental Care Is Important For People Of All Ages
Once a baby's teeth start to arrive, they face the same potential risk for cavities that people of all ages need to worry about. While you can take full responsibility for your child's smile at first, they will start to assume more responsibility for themselves when they are old enough to brush and floss their teeth. Pediatric appointments provide important support for kids as well, just as general exams are able to support the smiles of adults. While it is beneficial for people of all ages to see their dentist regularly, pediatric dental visits can include extra services to help youngsters protect their teeth.
What Can Your Dentist Do For Your Child At A Checkup?
Once they are old enough, kids can start to receive routine dental cleanings and evaluations during their appointments. These services help kids and adults stay protected against oral health threats, and they can lead to the early detection and treatment of problems that might develop. Pediatric appointments do include additional support to help young teeth stay healthy. One thing your dentist can do for your kids is take more time to educate them on the importance of good dental health. Kids also receive added support through fluoride treatments and the placement of dental sealants. Fluoride helps teeth stay healthy by making enamel better at repairing minor decay. Dental sealants keep smiles clean by keeping bacteria and food debris from accumulating directly on teeth.
Make Sure Kids Take Care Of Their Teeth At Home, Too
Bringing your kids to see their dentist on a regular basis is important. To further protect them from problems that might require dental fillings or dental crowns, consider the following:
Make sure your kids are doing a good job brushing and flossing every day. If you think their habits might need improvement, check in on them while they clean their teeth.
Provide healthy meals and snacks for kids in order to limit their sugar consumption.
Show your kids that you value a healthy smile by taking good care of your own teeth.
Talk To Your Austin, TX Dentist About An Appointment For Your Kids
At our Austin, TX dentist's office, we are prepared to help patients of all ages take care of their teeth. If you would like to schedule an appointment for yourself or a family member, please contact Austin General Dentistry at 512-346-5540.