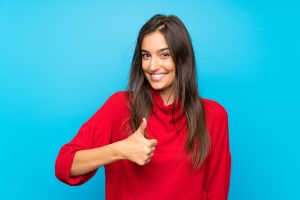 Have you already tried to deal with tough teeth stains on your own by purchasing a whitening kit from your local grocery store or pharmacy? If you have, you can be aware that the results they deliver can lead to disappointment. If you want to see real results from a cosmetic dental procedure, our Austin, TX dentist's office is ready to help! We can send you home with a custom whitening kit that provides bleaching agents that deliver improvements that are hard to miss. Once your recommended daily application period is complete, you can marvel at a smile that is now many shades whiter than it was before!
A Professional Teeth-Whitening Kit Can Lead To Exciting Smile Changes
When you turn to your dentist for help with tough teeth stains, you can finally receive a treatment that is capable of delivering observable improvements. Store bought agents are often capable of little more than the removal of stains on the surface of teeth. This can lead to some improvements, but the vision of your smile after treatment you entertained may not match the reality of what you see. With the kit we provide, you can see a color difference of up to eight-to-ten shades!
Performing Daily Treatments With Your Whitening Kit
When you receive your kit, your dentist can talk to you about how to effectively use the product, and also give you a timeline for your treatment. Typically, daily sessions of one or two hours will be recommended. Thanks to the convenience of a take-home treatment, you can find that this time is relatively easy to schedule. Your kit will include a custom tray that makes these applications surprisingly easy. After your treatment period is up, we can provide you with materials to "touch up" your teeth in order to stop new stains from becoming a concern.
Talk To Us About Your Different Cosmetic Treatment Options
The right cosmetic dental procedure can leave you in amazement at the color and condition of your teeth. If you currently worry about the shape, size, or general condition of teeth, a whitening kit may not be the right answer for your smile needs. In this case, we can recommend porcelain veneers, or we can talk to you about undergoing a bonding and contouring treatment to target certain flaws.
Austin General Dentistry Can Help You Deal With Tough Teeth Stains
At Austin General Dentistry in Austin, TX, patients who want to see real smile improvements can count on our services to help them. If you have felt let down by past efforts to brighten your smile, talk to us to learn how a whitening kit can help you! In order to schedule a consultation, call Austin General Dentistry in Austin, TX, today at 512-346-5540.