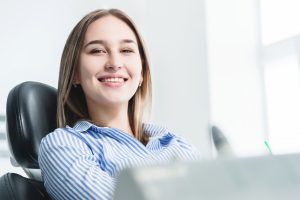 It is important to take advantage of the services your dentist provides at every preventive dental exam. With that said, your long-term smile health does benefit from you maintaining good habits on a daily basis. The approach you take to brushing and flossing your teeth can affect your relative risk for tooth decay and gum disease. Your choices when it comes to meals and snacks can also have a real impact on your smile. Fortunately, you can bring up any questions you might have about your current oral care routine when you attend dental checkups with your Austin, TX dentist.
Take Advantage Of The Preventive Services Offered At Every Checkup
Even with good oral hygiene habits in place, you can benefit from the services offered at every routine exam. At these appointments, you receive thorough teeth cleanings that remove tartar that might have built up since your last visit. Tartar removal is not something you can do yourself – while you can prevent the substance from forming, it can remain in place until your hygienist takes care of your teeth.
The evaluations provided by your dentist can also be important, too, as they give you information about the overall condition of your teeth. They also provide you with the chance to undergo treatment before a problem has the opportunity to worsen. A cavity found by your dentist may be treatable with a dental filling, which preserves most of your tooth structure. If that cavity is left alone until your tooth starts to hurt, you could require a dental crown.
Should You Make Changes To Your Brushing And Flossing Routine?
Are your current habits truly supporting your smile? You may want to consider a change if you tend to brush quickly, or if you rely on aggressive brushing in place of working to thoroughly clean your teeth. You should also pay attention to your periodontal health when you clean your smile. Every time you brush and floss, you should work to remove harmful agents that may be gathered at the base of your teeth.
Additional Changes That Can Help You Maintain A Healthy Smile
How does your diet currently affect your risk for tooth decay? While many people focus exclusively on sugar consumption when it comes to a smile-friendly diet routine, you should be cautious about acidic products as well. These foods and drinks can weaken your enamel, making it easier for bacteria to cause cavities!
Talk To Austin General Dentistry About Improving Your Oral Health Habits
At Austin General Dentistry in Austin, TX, patients who want to enjoy valuable oral health care can count on dedicated support at every routine appointment! We are also prepared to take quality care of your smile when you experience troubles like tooth decay. For more information, contact Austin General Dentistry today at 512-346-5540.