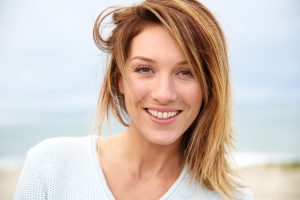 How long will it take to have a problem with your tooth addressed? At other practices, you may find that you have to wait to complete a treatment because your custom dental crown has to be produced by a third party dental lab. Our Austin, TX dental office is able to craft these restorations on site, so we can have the restoration ready for you in just one day! This makes the process of restoring a tooth more convenient, so you can return to your daily life with no more concerns about the condition of your tooth. It also eliminates a frustrating waiting period where you have to rely on a temporary crown to effectively protect a vulnerable tooth.
What Can You Expect From A Same-Day Crown?
A same-day crown is carefully crafted to fit comfortably over your tooth, and provide it with reliable support. Our office has the technology needed to take digital measurements, and use those measurements to design the restoration you require. The restorations we produce on-site are made from lifelike ceramic, so your tooth will appear natural after being cared for.
Crowns Can Address More Than Just Problems With Tooth Decay
Restorative dental work is often required for teeth affected by dental decay. With that said, crowns can be used to address more than just cavities. If you have a tooth damaged in an accident, worn down because of bruxism, or otherwise physically harmed, a crown can be necessary to restore its condition. In some situations, a dental crown is recommended to address naturally occurring issues with a tooth's small size or lack of functional support.
Avoid Future Dental Health Troubles By Scheduling Consistent Checkups
While our office is ready to provide you with a same-day dental crown, our goal is to help our patients maintain good oral health and avoid the need for restorations! To provide important preventive support, we offer dedicated teeth cleanings and evaluations. These appointments can lead to the discovery of problems that can be treated with a dental filling before a crown is necessary, which can ensure less change to your tooth structure. We can also keep you from developing decay or gum disease by removing plaque and tartar deposits that put you at risk for oral health concerns.
Austin General Dentistry Is Ready To Provide Same-Day Crowns!
At Austin General Dentistry, patients who need dental crowns can look forward to having lasting support in just one day! Modern technology in our office allows us to provide lifelike dental restorations created on site. This is one of many modern services that we offer in order to keep our patients' smiles in great condition. If you would like to learn more, or to schedule a consultation, call Austin General Dentistry in Austin, TX, today at 512-346-5540.