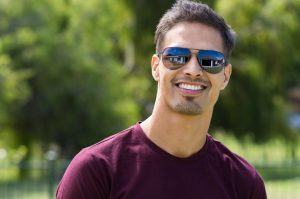 Living with a smile that you are less than confident in can become harder and harder over time. This is partly because you can feel frustrated by persistent feelings of self-consciousness, but also because wear and tear can gradually create additional problems for your teeth. What can you do to see meaningful improvements, and ensure that those improvements last? Our Austin, TX dental practice has helped many people greatly improve the way they look through the placement of porcelain veneers. Veneers are remarkably strong, thin shells constructed to look like healthy teeth. They only occupy a limited amount of space on teeth, but their presence can effectively hide a wide range of flaws that might make a person unhappy with how they look.
Veneers Can Address Multiple Issues With The Way Your Teeth Look
Veneers can make cosmetic dental work surprisingly convenient because they are able to address several flaws at one time. You can make your smile brighter, cover up gaps and overlaps, and even restore the appearance of teeth that look damaged or unhealthy. Because all of these improvements can be made with one procedure, this is often an effective and convenient treatment option for people who have several issues with the way they look.
What Will The Process Of Receiving Veneers Be Like?
The full process of having your veneers planned and put in place can be finished in just two appointments. The first visit gives your dentist the opportunity to measure teeth carefully, discuss your goals for cosmetic treatment, and provide any necessary preliminary work to make sure these restorations stay in place. Once they have been designed and produced, you can return to have your veneers bonded to the fronts of their corresponding teeth. The bonding process is permanent, and your veneers can be counted on to keep their shape and appearance over many years!
Reviewing All Of Your Options For Smile Improvement
There are several approaches to cosmetic dental work that we can discuss with you. If you want to fix problems with the shape, color, or size of teeth while avoiding the use of permanent restorations, a bonding and contouring procedure may be beneficial. This work can lead to exciting smile improvements while requiring minimal changes to your tooth structure. We can also discuss ClearCorrect with you if you have issues with the alignment of your teeth. ClearCorrect aligners make it possible to discreetly move teeth that are out of alignment, so you can make improvements without metal braces.
Our Austin, TX Dental Practice Can Offer Quality Smile Improvements With Veneers
At our Austin, TX dental office, we are ready to help you feel confident in your appearance! To schedule a consultation and learn how cosmetic dental work can benefit you, call Austin General Dentistry in Austin, TX, today at 512-346-5540.