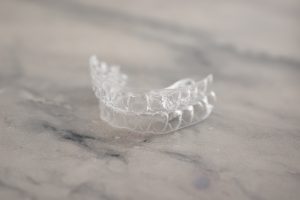 When a person's teeth are poorly spaced, they can be self-conscious about visible gaps, overlaps, and other flaws that have a negative effect on their smile. If you have these issues with the way you look, you may feel frustrated at the thought of having to wear metal braces to finally address them. What you should know is that our Austin, TX dental office can work on your smile alignment flaws by providing ClearCorrect aligners. ClearCorrect appliances are easy to remove, and they are designed to avoid unwanted attention. As a result, they can be an effective solution for poor dental alignment, as well as a discreet one!
Could You Benefit From Treatment With Clear Aligners?
If you have excess space between certain teeth, if you have visible overlaps, or if you have any other issues with teeth that seem out of place, you could be a good candidate for treatment with ClearCorrect. These appliances are capable of changing the spacing and alignment of your teeth in order to make your smile look more symmetrical, and generally more attractive. You can also enjoy some oral health benefits to performing a correction, as the work can lead to a better bite function, and even make it easier to clean your teeth so you avoid future restorative dental work.
What To Expect During Your Smile Adjustment
After confirming that you are a good candidate for ClearCorrect treatment, and working with you to design your custom appliances, we can supply you with the aligners designed to complete your adjustment. You can find that your adjustment to life with ClearCorrect appliances is an easy one. After all, they are hard to notice, and they can be removed whenever you are preparing to clean your teeth or eat.
Some Alignment Problems Can Be Addressed With Porcelain Veneers
While ClearCorrect aligners make orthodontic work easier, you may wish for a shorter path to a better smile. In some cases, an alternative cosmetic dental procedure can be effective at fixing your problems with your dental alignment. Instead of wearing ClearCorrect aligners for a designated period, you may be able to have improvements thanks to the placement of porcelain veneers. Veneers that have been custom-made for you can offer coverage for some gaps and overlaps, while also restoring the color and condition of teeth.
Talk To Our Austin, TX Dental Office About ClearCorrect!
At Austin General Dentistry, you can count on modern, patient-friendly treatment experiences when you express interest in cosmetic dental work. If you want to make improvements to your smile by fixing problems with gaps and overlaps, ClearCorrect aligners can make the process of straightening your teeth surprisingly easy. To schedule a consultation with us, please call Austin General Dentistry in Austin, TX, today at 512-346-5540.