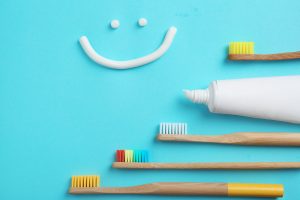 You know, of course, and you have known for the majority of your life that the basis of a healthy smile includes brushing your teeth. However, you have heard it so many times that there may not be quite as much power behind that statement, which means you may start to feel a bit apathetic about it. Is it really that important, you may wonder? The truth is, the answer to that question is always going to be a very big yes! While you can appreciate professional advice from our Austin, TX team is probably factual and important, we realize you may still appreciate some additionally compelling reasons behind our dental care advice. So, let's get started with some brush-related details.
#1: To Maintain Good Breath
This is simple but something that is often overlooked. When it comes to bad breath, remember that it comes from two primary sources if you aren't keeping your smile clean. First, if you have food that's breaking down that you have not removed, it's going to smell. Second, plaque is going to coat your smile on a daily basis. It needs to be removed twice a day (with twice-daily brushing sessions and once-daily flossing sessions) because it's full of bacteria. Not only do those bacteria lead to oral health problems but they also release unpleasant smells, which equal bad breath. So, we remind you to keep up your brushing!
#2: To Keep Your Smile Bright
You know that dental care and a white smile are directly linked. However, you may assume the only thing you can really do attain a bright grin is come in for teeth whitening. While this will certainly help with stains that are already present, remember the following: You can prevent discoloration by brushing, which helps you keep your smile vibrant whether or not you have ever received cosmetic care.
#3: To Prevent Oral Health Diseases
Remember that bacteria we mentioned? It releases acids onto your smile, which can lead to all sorts of problems, including gum disease, tooth decay, and infection. That is, unless you brush your smile twice daily to keep teeth free of bacterial buildup and associated problems!
#4: To Avoid Losing Teeth
You may realize that if you don't include brushing in your dental care, you'll develop problems that will require restorative care. What patients often overlook is that over time, this can actually lead to tooth loss. So, brush. It's a much better choice!
Remember The Dental Care Basics
Don't forget to follow through on the foundation of what makes your dental care easy and effective, including brushing, flossing, and preventive visits. Review the details by seeing us for a checkup soon! Schedule a visit with your dentist in Austin, TX by contacting Austin General Dentistry today at 512-346-5540.