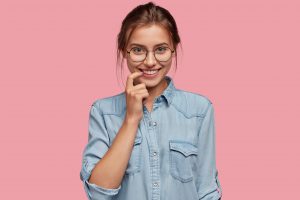 It's easy to come in to talk with us about your smile and your cosmetic care hopes and dreams when your entire smile appears yellowed. You know we offer care like whitening that can lift stains, that this is a popular treatment, and so there's nothing much out of the ordinary about seeing our Austin, TX team for such an issue. However, when you're standing in front of the mirror and you're looking at what you consider to be a tiny cosmetic issue, you may find yourself going back and forth in your mind: Should I call the dentist to set up a visit or shouldn't I? While we understand how you're feeling, we also want you to realize that we don't weigh your concerns based on whether they're big or not! A concern is a concern. See us soon!
Tiny Chips
A tiny chip may just be one little tiny bit of missing tissue but when it comes to an otherwise uniform smile, this blemish can throw everything off. It can also become uncomfortable if you have a sharp edge that is catching your tongue tissue or rubbing other soft tissues raw. See us soon for such an esthetic detail. We can provide you with dental bonding, which will quickly and beautifully fix the chip (or chips), as you regain the smile you used to enjoy looking at!
Tiny Bumps, Ridges, Etc.
Wish you could just smooth out one little tiny area of your smile because it's just not right? Maybe you have mamelons (ridges) left behind from childhood that never smoothed out on the edges of incisors and you wish they weren't there. Perhaps you have a tooth with a sharp point or a tooth that's barely longer than others, and so on and so forth! When you need the removal of tissue in a very small way, the results can provide a big payoff! This is easily accomplished with a cosmetic care treatment called contouring and is absolutely worth it.
That Extremely Small Gap
You may feel like the gap between your teeth doesn't really warrant care because it is so incredibly small. However, it bothers you and has always bothered you and you just wish you could make it go away! No problem. This is an issue that's more common than you may realize. It is also extremely easy to address, either with the aforementioned cosmetic care treatment called bonding or with the help of porcelain veneers. Come in to see our team soon to learn more!
Fix Little Esthetic Problems
Don't feel as though you cannot come to us for the smaller of your esthetic dental concerns. Instead, remember that we welcome you and your smile needs, no matter what! See us for a checkup very soon. Schedule a visit with your dentist in Austin, TX by contacting Austin General Dentistry today at 512-346-5540.