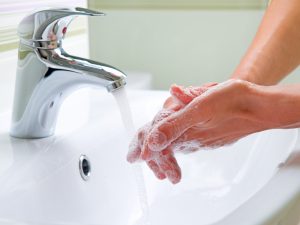 No, we aren't going to suggest any complicated pre-washing of your mouth before you brush and floss your smile. However, it's important to remember that you may need to consider other areas that require a bit of upkeep (just a little, mind you), so you may ensure that your dental hygiene is as safe and effective as can be! Ready for some easy steps that will make your care even better? Let's go!
Wash Your Hands First
You will want to wash your hands before you brush or floss your teeth. Go ahead and take a moment to reflect on all that you touch throughout the day. Your fingers are not the cleanest of places, which means if you don't wash up before dental hygiene, you're letting whatever you've collected (germs, etc.) make their way into your mouth, which can cause sickness.
Rinse Your Toothbrush Holder Or Cup
You will want to clean your toothbrush holder or cup every few days or so to ensure it's not getting moldy or yucky! The last thing you want is to store your toothbrush in a place that's full of germs and bacteria. It certainly won't do you any favors during dental hygiene.
Keep Your Brush Clean
Remember that this is easy to do and very important. Cleanse bacteria and debris from your brush each time you use it by rinsing it when you're through. Rinse it thoroughly and then, let it air dry!
Wipe Down Your Counters
Keep your countertops clean, too, so you are not contaminating your brush or floss when you set items down as you make your way through dental hygiene. It's worth the effort!
Make Dental Hygiene Its Best With Our Advice
Take our tips to heart to promote your most effective care at home for your smile. Schedule a visit with your dentist in Austin, TX by contacting Austin General Dentistry today at 512-346-5540.